Company Governance
Organization Operation Regulations
| | |
| --- | --- |
| Regulation / Date of Version | File |
| Company Code / 06.28.2016 | |
| Director and supervisor election regulations / 06.14.2006 | |
| Board meeting regulations / 03.26.2018 | |
| Shareholder meeting regulations / 06.26.2017 | |
| Asset acquisition and disposal regulations / 06.26.2017 | |
| Capital lending procedure / 06.26.2009 | |
| Transaction procedure of derivatives / 06.27.2018 | |
| Endorsement procedure / 06.25.2010 | |
| Remuneration committee organization regulations / 12.07.2011 | |
| Regulations on shareholders meeting souvenirs Distribution and margin collection / 03.20.2012 | |
Company Organization Structure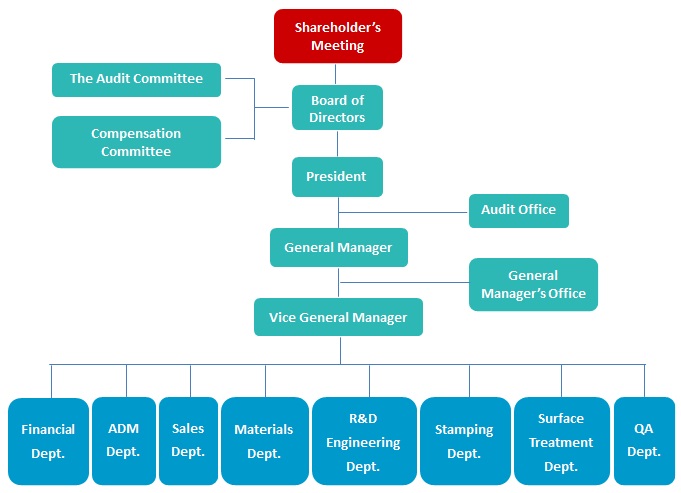 Internal Audit
Audit Office Organization Allocation :
 
1.The Audit Office reports to the Board of Directors.
2.Audit Director and Auditor x1.
3.Appointment of Audit Director is subject to approval of the Board of Directors.
Audit Office Responsibilities:
 
The Audit Office is responsible for investigation and assessment of the internal auditing system for identifying defects and appraising the operation efficiency, offering timely suggestions for improvements, so that the internal control system is implemented effectively. The office also assists the president the management for fulfilling respective duties. The Audit Office reports to the Board of Directors; it carries out independent internal audits, regular and irregular sales audits, and financial audits, making sure that internal control systems are complied with soundly, rationally and effectively.
Internal Audit Operations :
 
1. Auditing operations are carried out based on "Handling Standard of Internal Control System of Listed Companies" and relevant statutory regulations.
2. Set forth annual audit plan based on risk assessment results, and report the same to the Board of Directors. The scope of audit items is set based on statutory regulations and covers major control operations.Auditing operations are implemented based on the Audit Plan.。
3. Review results of autonomous internal control system of respective departments, the scope of internal control shall include operation effectiveness and efficiency, reliability of financial report, and compliance with relevant statutes. Check the design and effectiveness of the internal control system,compile a "Statement of Internal Control System" and submit it to the Board of Directors.。
Declaration of Internal Audit Operation:
 
Audit Office to accomplish the following Internet Declaration operations within the deadline specified by Securities and Futures Bureau, Financial Supervisory Commission of the Executive Yuan.
End of December: Audit Plan of the subsequent fiscal year (on resolution of board of directors).
End of January:Information of internal auditor and job delegates 。
End of February: Actual execution of the Audit Plan of the precious fiscal year.
End of March: Statement of the Internal Control System (on resolution of board of directors).
End of May: Improvements on defects and anomalies of the internal control system identified in Internal Audit of the previous fiscal year.

Shareholders Information
| | | | | | | |
| --- | --- | --- | --- | --- | --- | --- |
| FY | Board of Directors key decisions | Notice of shareholders annual meeting | Handbook of shareholders annual meeting | Agenda of shareholders annual meeting | Annual Report | Stock Price and Dividend |
| 2019 | | | | - | | |
| 2018 | | | | | | |
| 2017 | | | | | | |
| 2016 | | | | | | |
| 2015 | | | | | | |
| 2014 | | | | | | |
| 2013 | | | | | | |
| 2012 | | | | | | |
| 2011 | | | | | | - |
Company Speaker
Company Speaker: Vice President Lin Hua-xing (林華星)
TEL:(03)469-6175
Email

:eric@kenly.com.tw